Reduce costs, minimize downtimes

– the new possibilities of our interactive Support+
Support+ – The digital solution for your real challenge
With our Support+ offer we provide you a new access to our services. The new technology allows collaboration through interactive live video chat, just like having one of our technicians on site with you. Especially in case of a machine breakdown where you need rapid support, or for commissioning that is not feasible because of limited travel ability, or because you don't have time for a pre-inspection at our company, our Support+ is a real alternative.
The reduced travel times and better availability of our experts minimizes service and downtimes. You also save on travel costs and avoid unproductive travel time.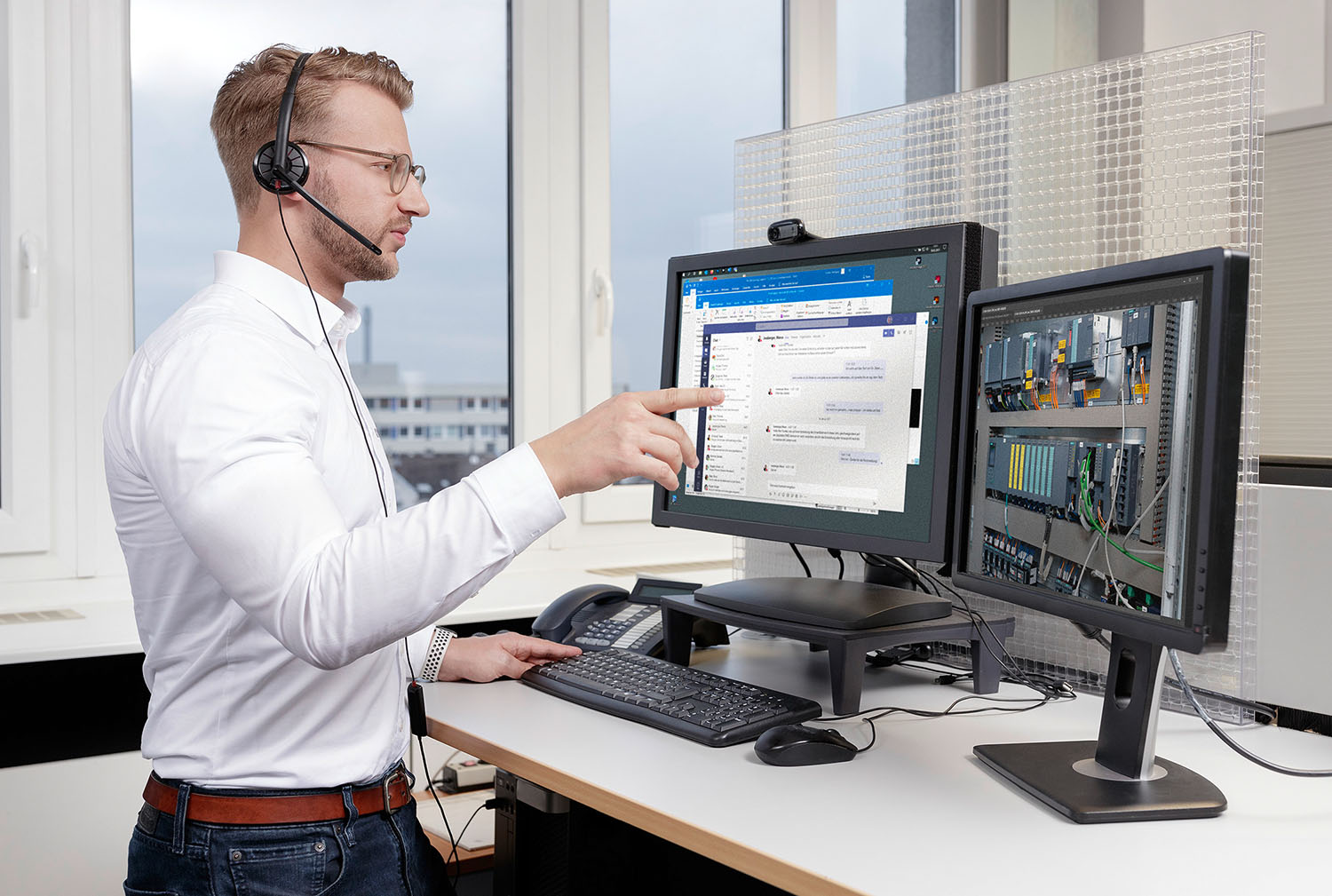 The digital solution for your service requests
The expert right by your side
All you need to use Support+ is a stable internet connect­ion, your smartphone or tablet, or even better, our smart glasses. This allows our experts to have a clear view over your shoulder of the machine and he or she can thus offer you clear guidance. Through the integration of Augmented Reality functions, collaboration between you and our experts can be further improved.
Unlimited possibilities…
Along with classic service tasks, with Support+ many other tasks can be mastered as well. Machine commissioning or virtual pre-inspections illustrate the diversity of this concept.

Support+
With our interactive Support+, we are raising our service to the next level. With it we are able to take a close look at your machine through the eyes of the user on site. Our experts are thus able to identify the problem without an on-site visit and if necessary provide a solution immediately. This ensures a faster response time and thus reduces downtimes on your machine.

Commissioning+
Because of the high complexity of balancing as an application, extensive know-how is required for the commissioning of our machines. Through commissioning, you have this knowledge at your disposal and one of our technicians can directly assist you, just if they were on-site, unconstrained by travel costs.

Virtual pre-inspections
For pre-inspections on site at our company, our new tool is an excellent fit and has proven successful time and again. Here you have a direct view of your machine and can directly make contact with your contact person on site. In many cases this will save you a long and strenuous trip.
In addition to our main application areas, upon consultation with you we can always use our Support+ to offer an individualized service that is tailored to your needs. Just contact us.
What is Support+?
Bidirectional interaction between customer and expert
Optimal availability of expert knowledge
Go live with up to 4 participants
Web-based applications with no software installation required (other than mobile app)
Augmented Reality functions that virtually eliminate communication hurdles.
"Hands free" work when using smart glasses with export support.
Your advantages at a glance
Cost savings due to reduced travel
Shorter downtimes on your machines with more short term availability of our experts
Quick and cost-efficient initial diagnosis in case of machine problems
Quick commissioning because of better availability of our experts.
Contribution to sustainability by saving CO2.
Short-term, individualized technical support.
Support+ – fast, cost-effective and uncomplicated